CFA
Vice President, Franchisee Operations - Murphy Business & Financial Services LLC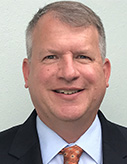 Cell: (813) 470-9290
Phone: (727) 725-7090
407 N. Belcher Road
Clearwater, Florida 33765
Craig Sanford has worked as a financial professional for more than 20 years, serving both Fortune 500 companies, as well as smaller, privately held businesses in various professional roles. He has gained extensive experience in such areas as; private equity fund investing, corporate development, strategic planning, business valuation, operations analysis, and financial management.
Before joining Murphy, Craig worked as a sell-side advisor and consultant for the Principium Group, a boutique brokerage focusing solely on companies in the Green Industry. Prior to this he served as a Vice President for a private equity fund, Westshore Capital Partners. During this time he focused on sourcing, structuring, and closing niche investment opportunities in the lower middle market. Before joining Westshore Capital, he served as an M&A manager for ServiceMaster, a Fortune 500 company, that provides various residential services throughout the US. During his stint at various ServiceMaster business units he participated in and oversaw the completion of more than 150 transactions. His business experience prior to ServiceMaster includes time performing corporate finance and business valuation services for Rhea & Ivey, PLC, a regional CPA firm and also experience as a corporate controller for AutoZone, the nations largest retailer of automotive after-parts.
Craig holds an MBA-Finance from the University of Mississippi and is a Chartered Financial Analyst as designated by the CFA Institute.